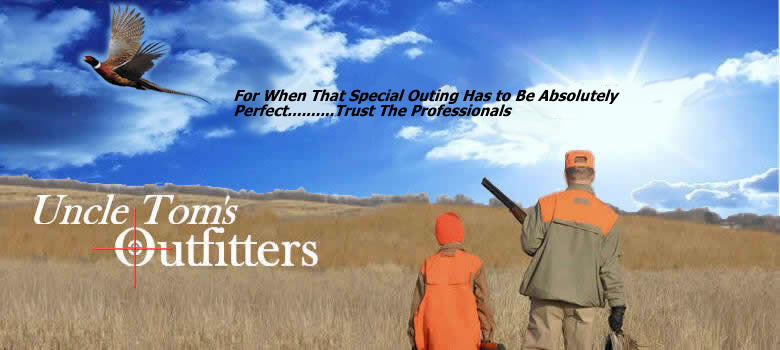 Uncle Tom's Outfitters - Sport Shop

NEW Service

- Aerial photography and videography, aerial imagery, using a drone

Contact us for a quote to film high-resolution aerial photos or video of your home, farm, business or hunting land. See rate page.

We are a Full Service Sport Shop:

Gun Sales And Repair
Archery Sales, And Repair
Custom Arrows - Certified Arrow Smith
Rod And Reel Repair
Rifle Sight In
Trapping Supplies
Factory Authorized Beaver Dam Tip-up Repair Service Center
"Fishing Hot Spot" Maps for sale (mail orders are welcome)
NEW Products added to shop:Toothpick Hook Remover

Tool

with or without lanyard-Used to remove jigs from a fish without damaging your jig, like pliers and forceps do

. The Filet Claw

- it's a great fish filleting tool and

The Spot-Knot

- it's a bobber stop knot tying tool. All four items are great for the ice fishing season.

Christmas wreaths, porch pots, swags, and silk arrangements. Open house on Nov. 18-19 at the shop on Hogan Road.

Uncle Tom's Outfitters -Sport Shop

Uncle Tom's Outfitters - Guide And Instructional Services

We Offer A Full Line Of Fun And Training!

Concealed Carry Instruction
Hunter and Bowhunter Safety Courses
Trapping Courses
Educational Seminars/Classes
Nuisance Wildlife Removal And Trapping
Guide Service
Fishing Seminars/Classes
Annual Hunts for Handicapped Individuals

We Specialize In Providing Opportunities For Kids And The Physically Challenged!


Questions? Info@uncletomsoutfitters.com Phone: (608) 745-HUNT (4868), Cell: (608) 617- 8733, Fax: (608) 742-8663
W9833 Hogan Rd, Portage WI 53901
© 2017 UncleTomsOutfitters.com, all rights reserved. Web Design by Laserdns.com